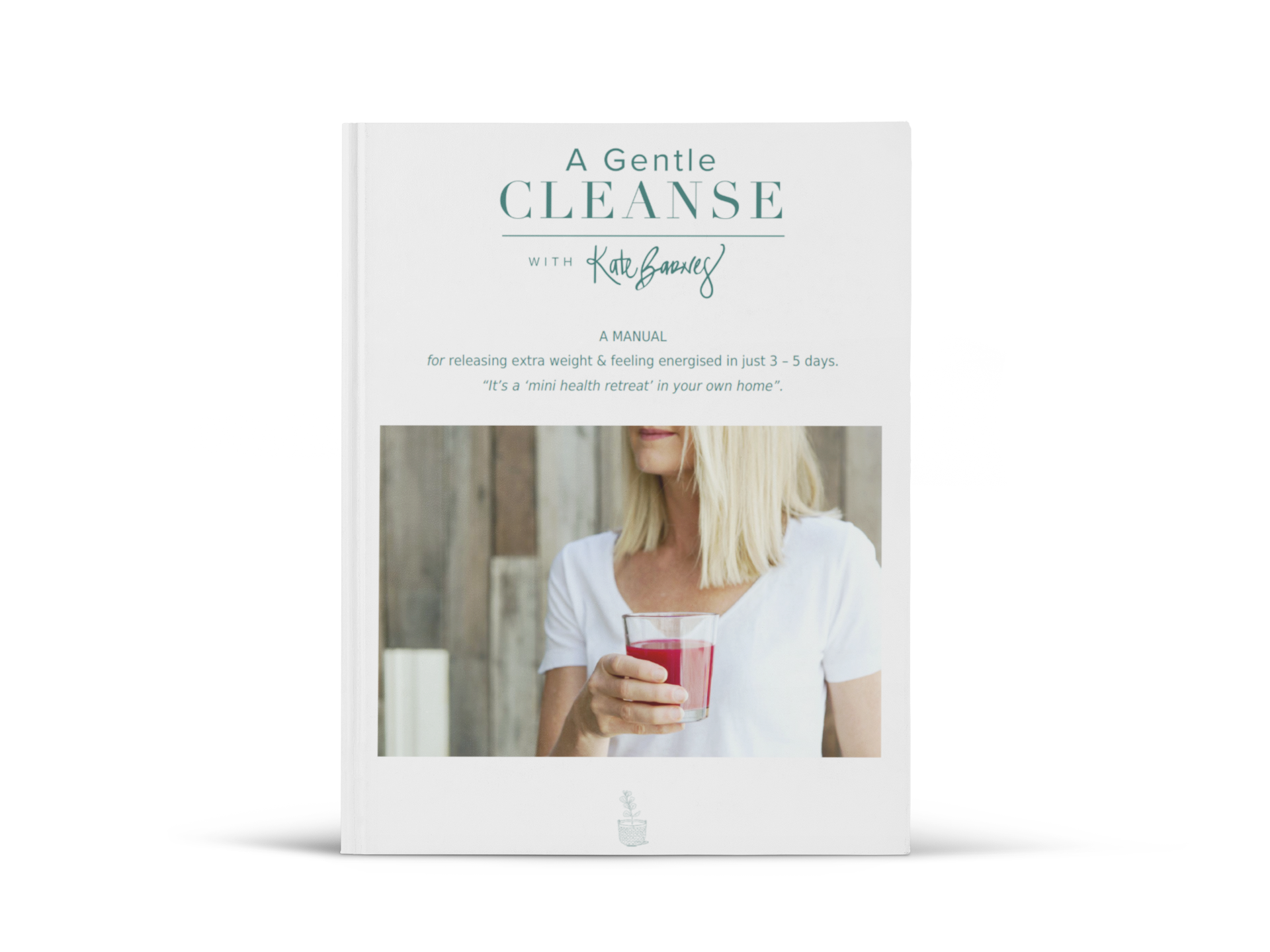 Kate Barnes Health Coaching presents
Kickstart your Health with A Gentle Cleanse.
A FREE online class & cleanse manual.



It's time to re-energise and revitalise. Simply. Gently.
In just 3 - 5 days.
(including the FULL step x step manual)
Monday 26th October 7:30pm - 8:15pm AWST
Can't make the time? Register & get the call recording.
Cant
✓ enjoy the benefits of pre-cleansing & why it's important.
✓ eliminate detox symptoms simply & easily.
✓ cleanse even with a busy family life! Including simple, delicious family meals everyone LOVES!
✓ implement 5 minute hacks to lower stress & give THE best cleanse.
✓ eliminate inflammatory foods with ease.
✓ and why we need to include certain, (delicious) foods.
✓ not be haaangry! Promise.
✓ supplement or not?
✓ fast. How it works (or not).
✓ create a 'mini health retreat' at home.
✓ cleanse while working and juggling everything.
✓ manage without coffee (even if you can't)!
✓ transition from the cleanse back into everyday life.
And... have all your questions answered.
I've lost 2.5 kg, I feel very clear headed and my stomach is flat!
I'm amazing, I've got more energy, lost weight, have good digestion and am clearer in BRAIN function!
~ Anne


It's time to remember how GOOD you CAN feel...
✓ Energetic. Waking up fresh & happy with energy ALL day.

✓ Joyful. Lighter in mind and body after releasing toxins and a couple of stubborn extra kilos gives a gateway to joyfulness.
✓ Empowered. WITH the knowledge to transform your life and your lifestyle in just a few short days.
✓ Clear. Clear in thought and having focus again to do what you know you need to do without fogginess, procrastination & lethargy.
✓ Rested. Sleeping more soundly and solidly is THE best side effect of a Gentle Cleanse. Instantly transforming your day and your energy.
✓ Transformed. With knowledge that lasts a lifetime & has the power to transform not only you but your family as well.
If 'yes' - then it's time. Time for 'A Gentle Cleanse'.
In just a few short days you will create your new normal.
WHY WAIT?
You've got your FREE manual NOW join me for an intro. to
A Gentle Cleanse with Kate. LET'S DO IT.
'I've just weighed in… and am amazed at my results. I lost 3cm from my stomach, pretty much 2 cm all over and lost 3.1 kilos. This has also been with no exercise as I am out of training with injuries! Wow! So excited'

Say 'hello' to A Gentle Cleanse with Kate! And a happier, healthier You.
Your FREE cleanse manual is a step x step guide. The Manual includes;



a comprehensive shopping list.

daily meal plan including recipes and snacks (we don't go hungry).

18 cleansing lifestyle tips to cleanse with ease.

4 ways to stimulate the lymphatic system and help remove toxins efficiently.

a list of my favourite 10 - 15 minute meditations to choose from.

strategies to cleanse while running a busy home & family.

quick and easy family meal ideas to stock the home with so you're not worrying about what to feed everyone!
If you haven't already got your manual, you'll receive it as soon as you register for this Webinar.
Make sure to register below and you're, good to go!
Valued at $37 - for a very limited time it's FREE!
"I had just come back from an overindulgent holiday and signed up to do the cleanse with Kate. Over a 5 day period I lost 3 cm from my stomach and 2 cm from my waist, hips & thighs and lost 3.1 kilos"

Do we really need to cleanse?
I used to believe our body was perfectly designed to cleanse naturally. And it is...
Yet in today's world we are daily under assault from toxins in our environment, often 'silent' in their nature, gradually accumulating, weighing down our organs, disrupting our cellular energy and our vitality.
YES cleansing and monitoring our toxic exposure is a super important part of our wellbeing. It's not until we lighten the toxic load, mentally, physically and emotionally we experience just HOW good we are designed to feel.
Toxins are everywhere, we can't escape them. A BILLION kilograms of chemicals are released into the environment every year, polluting our food and our fresh air.

There are over 80,000 chemicals currently used in the USA that haven't been regarded as safe. They are used in our personal hygiene and beauty products.

We all have old belief patterns and thoughts that we inherit or form in our early years that unless we reprogram create toxicity, mind, body and soul, diminishing our energy and our ultimate wellbeing.

When we FEEL good, life is better, productivity, relationships, sleep, energy and so much more all improve.
We are able to handle the many stressors in our lives so much

better

.

In a few short days we can FEEL more energetic, vital and happier.
5 Days will be perfect, yet 3 days is great too .
There are no hard and fast rules.
Kelly says ~ 'A Gentle Cleanse is like a mini health retreat right there in your own home!'

It's why I created A Gentle Cleanse!
days
hours
minutes
seconds
days
hours
minutes
seconds
A 3 or 5 day journey packed full of inspiration and learning to last a life time. Yet it has to be easy & doable.
Would love to join but can't make the 26th? I've got you covered.
Register & the replay is available for 48 hours to listen in your time.
Illness is preventable. It starts at home with the food and lifestyle choices we make everyday.

My Cleansing Adventure So Far...
I grew up on our family farm North of Perth in Western Australia enjoying the great outdoors, fresh air and clean water. It was an idyllic childhood. I was rarely sick and have enjoyed great health ever since.
Fast forward fifteen years and we celebrated the joyful, miraculous arrival of our first child.

At 5 years old one of our children presented with developmental issues. After a year of visiting specialists and given no answers, we discovered the heavy toxic load they were carrying. I was horrified! How was that possible?
With my education as a Scientist and Holistic Health Coach, for the first time I started questioning what my family was being exposed to everyday. Perhaps more importantly I realised HOW much control I had over those everyday exposures and felt an empowering sense of freedom that came with that knowing.
There began our families cleansing (& vitality) adventure.
Ten years later, we haven't looked back and each continue to enjoy great health. It is my wish for everyone who wants to experience great health, to enjoy this incredible gift. And it starts in our homes!
There is so much FREE medicine we have access to. I can't wait to share so much more on our call.
With love,

JOIN ME on your own Freedom Adventure!

It's FREE.
For over 4 years I've supported hundreds of women on this journey.
This is the FIRST time I've offered the Gentle Cleanse manual for FREE. I don't know if I will offer it like this again.
It's not hard, it IS gentle, effective and it IS doable (even in our busy lives).
Download your manual and join me Monday 26th of October, ONLINE.
Can't make the 26th? I've got you covered.
Register & the replay will be available for 48 hours after our call to listen later.
Or after the 5th it will be just $47 for the manual + the self paced program.
Copyright © 2020 · All Rights Reserved · Kate Barnes